Love Came Down at Christmas
Sunday, December 16 • 2:00pm or 4:00pm
Abbey of New Clairvaux, Vina, CA
TICKETS: $25 Adult ($27.50 When Purchased Online)
Tickets are available at Zucchini and Vine or online at chicotix.com.
The North Valley Chamber Chorale, under the direction of Dr. David Scholz, is pleased to announce the return of its bi-annual service of lessons and carols. Titled Love Came Down at Christmas, this special event will be held at the recently completed church of the Abbey of New Clairvaux in Vina on Sunday, December 16th at 2:00pm and 4:00pm. NVCC is excited to be presenting the first concert in this beautiful edifice of worship since its restoration. The concert will begin with Benjamin Britten's Ceremony of Carols with Candace LiVolsi accompanying the choir on harp. The Christmas story will then be told in a series of seven readings from the New Testament interspersed with anthems sung by NVCC and sing-along carols for the audience. Tickets for this event are $25 and are available at Zucchini and Vine or online at chicotix.com (tickets purchased online or at chicotix.com are $27.50). No host wine tasting is available at the vineyard from 11am - 5:00pm.
Mozart Requiem
Sunday, April 14 • 2:00pm
Laxson Auditorium
TICKETS: $30 Premium | $22 Adult | $20 Senior | $12 Youth | $10 Chico State Student
Tickets may be purchased by calling the University Box Office at 530-898-6333 or online
The spring concert of the NVCC features the magnificent Mozart Requiem. Presented with professional orchestra and soloists, this seminal work is part of the 2018-19 season of Chico Performances and will occur in the 1,200 seat Laxson Auditorium on Sunday, April 14th at 2:00pm.
Help Support NVCC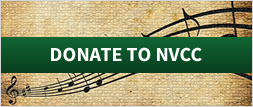 The North Valley Chamber Chorale would not be possible without the generous support of our donors. Please consider becoming a donor or sponsor.
Give your Support